You are here:
Home
→
Location
Sporthotel Igls
Hilberstraße 17
6080 Igls
Austria
phone: 0043 512 377 241-0
fax: 0043 512 378 679
Email: hotel@sporthotel-igls.com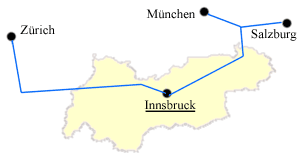 Weather in Igls today
Igls
Innsbruck, Tirol's capital with its ancient city center, its history as capital of Austria, and the rich cultural heritage of its surroundings is worth a visit. The Inn valley is one of the few North-South pathways over the Alps that were used since Roman times contributing to its cultural diversity.
Igls is the beautiful Patscherkofel Ski Resort - high above Innsbruck on a sunny plateau surrounded by the Alps. From gentle runs for beginners and families, to challenging and heart pounding olympic runs, the Patscherkofel Ski Resort has everything you need for great of skiing no matter what your ability. The famous olympic ski area of Axamer Lizum is a 30 minutes bus ride away. It also offers cross-country ski opportunities.
Forum services:
On Thursday afternoon, a bus to Axamer Lizum (returning for evening sessions) will be provided for free. For non-skiers (and others) afternoon sightseeing options will be offered at a small charge.
Innsbruck-Igls is easily accessible by
Car - 'Brenner-Autobahn' is the central hub for highways from all directions
Train - e.g. from Munich/Germany, Vienna/Austria, Zurich/Switzerland, Once arrived in Innsbruck, bus line "J" connects Innsbruck central station with Igls (about 20 minutes)
Air - Innsbruck's international airport can be reached through a number of low cost airlines from all over Europe, from the major international airport hub of Munich, Germany, Innsbruck could be reached through a shuttle bus or through train services
By train
Once arrived in Innsbruck, bus line "J" connects Innsbruck central station with Igls (about 20 minutes)

By plane to Innsbruck
Airport Overview on regular flights from and to Innsbruck
Innsbruck-Airport
Direct airline connection to Innsbruck from the following airlines
Bus "F" connects the airport with Innsbruck central station (about 20 minutes), from where bus line "J" departs to Igls (about 20 minutes bus ride). online trip planner Tirol/Austria
Price for Taxi from Innsbruck-Airport or Innsbruck-Center to Igls is about 15-20 Euro.
By plane to Munich and then to Innsbruck
International airlines fly into Munich, Germany, 2 hours ride awayfrom Innsbruck. There are two options to get from Munich airport to Igls:
Shuttle Transfer (Competitive pricing)
Shuttle transfer Munich airport - Tirol - Munich airport, directly to your house/hotel and from there back to check in at the airport.
Train
Busses and city trains connect Munich airport with Munich central station (about 45 minutes). From Munich central station trains departto Innsbruck central station (about 1,5 hours). Bus line "J" connects Innsbruck central station with Igls (about 20 minutes).