You are here:
Home
→
Program
Accommodation and Activities
Accomodation
The tourist office in Garmisch-Partenkirchen has secured a sufficient number of hotel rooms in different price categories for participants of the Forum. All of them are in walking distance of the conference center and close to train or bus stations. The tourist office manages the available contingent of rooms and provides support in finding the most appropriate accommodation for participants (including apartments where of interest). Enclosed is a reservation template (PDF, WORD) which you can send by e-mail to the tourist office (Ms Becher) which will provide you with a number of alternatives to choose from.
The contact is:
Garmisch-Partenkirchen Tourismus, attn. Ms Nicole Becher
Richard-Strauss-Platz 1a
D-82467 Garmisch-Partenkirchen
e-Mail: reservation@gapa.de
www.gapa.de
Tel: +49 8821 180 7434
Fax: +49 8821 180 7759
The office is very supportive and flexible. As February is high season in Garmisch-Partenkirchen with very high prices for late-comers, we urge participants to reserve rooms as soon as possible, preferable by December 01, 2018.
Conference hotel
The Forum has identified the "Bio-Hotel Garmischer Hof" as its central conference hotel. The hotel with its about 50 rooms has been reserved exclusively for the Forum. Room reservations for this hotel should also be organized through the tourist office (attn. Ms Becher) with the appropriate reservation template (see above), mentioning as accommodation interest the Bio-Hotel Garmischer Hof.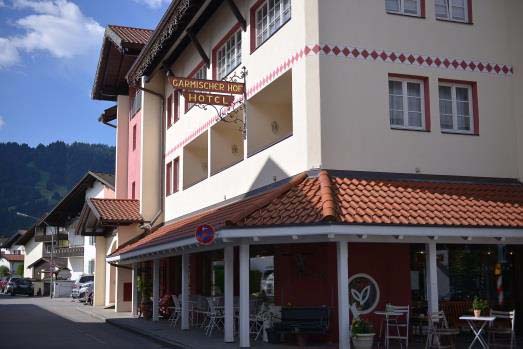 Youth hostel accommodation
Participants with interest in youth hostel accommodation (no age limit) should directly contact the very new, modern, comfortable, and centrally located youth hostel "Moun10" through
https://moun10-garmisch-jugendherberge.de/wir/ . It's close to the train station, the conference center and the ski bus. The present very new web site is (unfortunately) only in German.
Bus services
Garmisch offers a free bus service for guests. The bus routes of primary interest are bus no. 2 or the ski bus which runs from the train station to the skiing area. Additional bus routes lead to sightseeing attractions nearby such as "Kloster Ettal" and others.
Activities for skiers and non-skiers
The main skiing area is Garmisch Classic which can be reached through two different gondola lifts. The Garmisch "Hausberg" can be reached in a few minutes with the official ski bus, the "Albspitzbahn" and "Kreuzeckbahn" are located at the end of bus route no. 2. Ski equipment can be rented (and stored) at the base stations of these gondolas.
For non-skiers, the Forum will offer, as usual, guided tours on Tuesday and Wednesday. Further tours are being offered through the tourist office next door to the conference center. It also offers recommendations for individual activities.